Artists and Art collectors mobilized for Agrisud!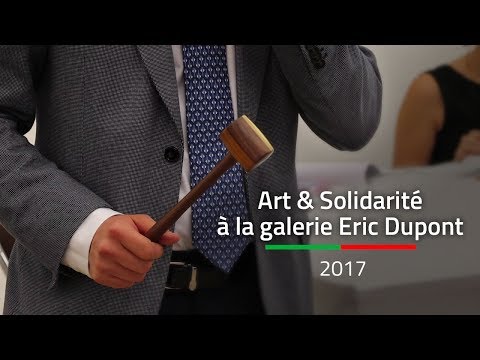 [8 June 2017]
The Association Les Amis d'Agrisud and the gallery Eric Dupont organized the 6th edition of the contemporary art auction to benefit Agrisud International.
No less than 29 artists and 23 gallerists and donors mobilized to support our actions on the ground. As with every appointment, Master Rémy Le Fur, from the AuctionArt auction house, graciously held the hammer! This year, a beautiful musical moment was offered to us by François Pineau-Benois on the violin.
Agrisud would like to thank the artists, the galleries as well as the Eric Dupont Gallery team and of course the buyers for this convivial evening, which thanks to them has been a success.
The artists:
Ana Pérez Ventura, Arnaud Rabier Nowart, Bertrand Lavier, Cameron Platter, Claude Faure, Clément Bagot, Damien Cabanes, Didier Mencoboni, Elzévir, Erró, Gaêlle Choisne, Gérard Fromanger, Gérard Traquandi, Hervé Di Rosa, Jean-Pierre Raynaud, Joe Scanlan, Marc Desgrandchamps, Mari Minato, Matthieu Martin, Michel Duport, Narmine Sadeg, Patrick Tosani, Paul Pagk, Richard Fauguet, Stéphane Zagdanski, Tadzio, Thierry Costesèque, Thomas Dreyfuss, Yazid Oulab.
The donors:
Adrien Saporito, Alix Mansard, Aline Vidal gallery, ALB AnoukLeBourdiec gallery, Antoine de Galbert, Benoit Porcher and Semiose gallery, Bernard Jordan gallery, Eléonore Chatin and Catherine Putman gallery, Eric Dupont gallery, Eric Hussenot gallery, Gilles Drouault and De Multiples gallery, Georges-Philippe Vallois, Grégory Leroy, Hélianthe Bourdeaux-Maurin and H Gallery, Jean Brolly gallery, Jean-François Roudillon and LOFT gallery, Julie Blum and Anne-Sophie Duval gallery, Laurent Godin and Lara gallery, Olivier Antoine and Art : Concept gallery, Olivier Belot and Untilthen gallery, Patrick Bongers and Louis Carré gallery, Michel Roudillon, Victoire Di Rosa.
The musician:
François Pineau-Benois interpreted us: The Preludes, Loure and Gavotte in Rondeau de la Partita III, BWV 1006, by Jean-Sébastien Bach
The organizing team:
The association Agrisud International, The association Les Amis d'Agrisud, Elisabeth Golovina-Benois, Ekaterina Smoliakova, Yoann Gentil, Grégory Leroy, Cécile de Hann, Théodora Dupont-Courtade, Caroline Coupé, Karine Vial, Yvonnick Huet, Robert Lion and Maître Rémy Le Fur from the AuctionArt auction house.
Contemporan artists involved in the fight against poverty!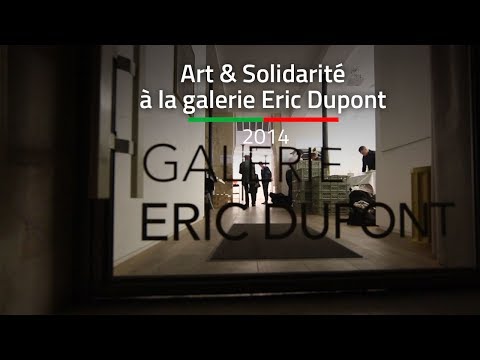 [November, 5th 2014]
Eric Dupont art Gallery organized an auction sale of contemporary art for the benefit of Agrisud International.
Thanks to Cécile De Hann (cello), Jack Bonvallet (violin) and Eric Lancelot (bass) we enjoyed a great musical interlude before starting the auction sale graciously directed by Maître Rémy Le Fur. Almost fifty works of art, offered by generous artists  and art galleries, were sold for the benefit of Agrisud International in order to support its actions in the field.
This year, the gallery also organized a silent auction sale and a raffle which allowed a happy art collector to go home with a painting from Damien Cabanes.
Agrisud wants to warmly thank the artists, the galleries, the musicians, the Gallery team as well as the buyers for their valuable contribution. Thanks to all of them the sale was a success! Agrisud International also wants to thank Xavier Guille who kindly offered his pictures and this video to illustrate the evening.
 The artists :
Michael Ackerman, Arman, Clément Bagot, Katinka Bock, Frédéric Bruly-Bouabré, Pierre Buraglio, Damien Cabanes, Stéphane Calais, Pierre Charpin, Thierry Costesèque, Erick Dietman, John Devlin, Yann Dumoget, Errò, Jacques Faizant, Richard Fauguet, François Fleury, Gérard Fromanger, Gus, Philippe Hiquily, Li Lihong, Adama Kouyaté, Carlos Kusnir, Arnaud Labelle-Rojou, Angelo Lelli, Loup, Adrien De Melo, Didier Mencoboni, Yazid Oulab, Paul Pagk, Axel Pahlavi, Jorge Pardo, Diogo Pimentao, Mathieu Pernot, Tim Plamper, Jean Prouvé, Florence Reymond, Denis Savary, Clémence Seilles, Tetsu, Gabrielle Wambaugh, Jérôme Zonder.
The galeries:
La galerie Art Concept, BSL galerie, la galerie Chirstian Berst, la Galerie Jean Brolly,
la galerie Eric Dupont, les Encadrements Flamant, la galerie Eva Hober, la galerie Hussenot, la galerie Jousse Entreprise, la galerie KREO,
la galerie Yvon Lambert et Olivier Belot, Grégory Leroy, la galerie Loft, la galerie Loevenbruck, la galerie Louis Carré et Cie, la galerie des Multiples, la galerie Odile Ouizeman, la galerie Claudine Papillon, la galerie Catherine Putman, Michel Roudillon, la galerie Suzanne Tarasiève, la galerie Jocelyn Wolff, la galerie XIPPAS.
The musicians:
Cécile De Hann, Jacques Bonvallet et Éric Lancelot.
The organizing team:
L'association des Amis d'Agrisud, Éric Dupont, Marion Le Cras, Théodora Dupont-Courtade, Manon Al Hakim,
Robert Lion, Grégory Leroy and Maître Rémy Le Fur from the saling house AuctionArt.